About Innovative Laser Works
Established, February 20, 2001 by husband-wife team, Malcolm and Alice Taylor, Innovative Laser Works was the first in Manitoba to provide artistic and commercial laser engraving and laser cutting services to clients looking for a unique, creative and long lasting way to communicate a message.
At Innovative Laser Works we manufacture products ranging from memorials, monuments, plaques, awards, industrial metal tags, donor walls, office signage, heritage signs, architectural renderings, edge lighting artistic creations and more. Every project is designed and produced on some of the best equipment in the country by precision trained technicians who have extensive experience with laser engraving.
If you have a special message, an artistic drawing, special photo or graphic that you want to display or create as a keepsake, we can laser engrave onto almost any surface including; stainless steel, wood, glass, granite, leather, acrylic, tile, etc. It's this flexibility in messaging, style and material that makes each and every product unique with quality second to none in the industry.
Our Vision
To have the definition of the word 'innovative' reflected in everything Innovative Laser Works does. To deliver innovation, our skills, passion, products and service standards to customers accross North America.
Our Customer Pledge
To deliver our skills, passion and products with a high standard of quality and service with innovation reflected in everything we do.
Quality
Innovative Laser Works is a leader in laser engraving and our repeat clients are proof of our ability to deliver truly amazing laser engraved projects. We could write pages about how we ensure a quality product but we'd like to invite you to visit our Testimonials Page to see first-hand what our customers have to say about us.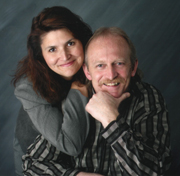 Mac and Alice Taylor, Owners
---
Our Mission
We are an innovative laser engraving company that specializes in designing creative, durable products whose purpose is to communicate a message. Our products are as diverse as our clients, but despite this diversity, we do serve a niche market – a market consisting of clients who seek a unique, quality medium to impart very important messages. From precious memorials and headstones whose intent is to offer a lasting memory, to community and municipal plaques, signs and cairns providing value in their historical messages for future generations; from corporate logos and works of art offering culture and beauty, to community awards and recognitions that stand as icons of crowning achievements. We have a relentless focus to provide quality craftsmanship in every laser engraving project we undertake and to build quality, long lasting relationships with our clients.