News
Endless Possibilities
9/1/2005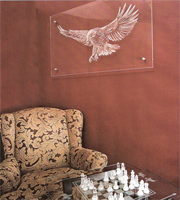 Engraved on acrylic using the latest in laser technology, the eagle appears to be in flight as it hovers against the wall. The cast of a slight shadow only adds to the three-dimensional quality, "With laser engraving, you're getting the detail so you can see every little part of each feather," explains Alice Taylor, who together with her husband Malcolm (Mac) Taylor own Innovative Laser Works.
The eagle is an engraving of one of many works produced by local freelance artist Sandi Storen, exclusively for Innovative Laser Works. The company also offers a library of works from other artists, as well as several hundred thousand pieces of royalty-free clip art. In fact, Taylor used clip art to decorate the sides of the glass table after she designed the chess board, "You can bring in your own work, as long as you own the copyright," she notes. Innovative Laser Works has engraved everything from children's handprints and footprints, to personal poems, drawings and photographs.
"It doesn't have to be glass or acrylic," notes Taylor, "We can do most flat surfaces including granite, stainless steel, wood and tempered glass." Innovative Laser Works can accommodate sizes up to four by eight feet, ideal for homeowners who want to use glass or acrylic to maximize their open concept while dividing certain spaces. The company can also incorporate edge lighting in solid or changing colours to enhance panels and artwork. In their fifth year of operation, the Taylors were the first to bring original large format laser engraving to Manitoba.
STYLE MANITOBA | AUTUMN 2005