News
Bringing Images to Life
5/1/2006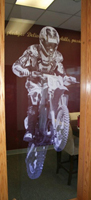 Edge lighting brings the intricate details and subtle shading of these etchings to life in the showroom at Innovative Laser Works. "Wherever we've used the laser, that's where it lights up," notes Alice Taylor, co-owner with her husband Malcolm (Mac) Taylor. Built right into the framework of these interior windows, the LED light system injects both brightness and colour. Options include white, blue, red, green or a colour changer that moves gradually through approximately 600 different shades and can stop on any hue.
The image of the homeowners' son airborne during a motocross race on the acrylic was reproduced from a regular four by six inch photograph taken by Image Plus. The panels illustrate one possibility for today's open concept homes that use dividers to define a particular space. A glass or acrylic etching is a decorative solution that still allows light to flow through.
Other applications for laser etching include everything from glass tables and signage to artwork and coasters. "We can go up to four feet by eight feet to as small as you want to go," says Taylor. Etching is also possible on materials such as wood, stainless steel and granite. Innovative Laser Works recently acquired a second laser that can also etch curved surfaces, including glasses and wine bottles, empty or full.
The showroom's library has thousands of images along with the exclusive reproduction rights for the works of local artist Sandi Storen. Or clients can bring their own subject, anything from handprints to written text. "We're limited only by your imagination," says Taylor.
STYLE MANITOBA | SPRING 2006