News
Let There be Light
5/1/2007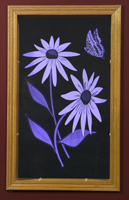 The delicate daisies and butterfly in this pocket window are lit by an LED lighting system incorporated right into the frame of this 21 by 37 inch work of art. The light changes gradually through 600 subtle colour variations and can be stopped on any hue.
"Wherever we've engraved, that's what catches the light," says Alice Taylor, co-owner of Innovative Laser Works with her husband Malcolm (Mac) Taylor. She adds that this type of artwork is particularly beautiful at night.
Taylor created the motif by combining two images from a large collection of royalty free clip-art in the showroom's library. Also available for reproduction is a selection of works produced by local freelance artist Sandi Storen exclusively for Innovative Laser Works. Customers have brought in everything from photographs to handprints to poetry. "Just about anything you can give to me, I can reproduce," says Taylor.
The computerized laser can engrave single surfaces as large as four feet by eight feet, allowing for the creation of customized room dividers, panels, doors and windows for today's open concept homes. Besides glass and acrylic, the laser can etch on granite, wood, painted aluminum and stainless steel. Innovative Laser Works has engraved everything from tabletops and donor walls to small personal items.
Last year, the company acquired a second more powerful laser that can also engrave cylindrical surfaces. The possibilities for engraving are now almost limitless. "That's all we do," notes Taylor. "We are laser engraving specialists. We've really worked hard at perfecting the process."
STYLE MANITOBA | SPRING 2007